Monday, June 20 –Friday, June 24
Make Waves-What you do today can change the world around you!
We invite all children from Kindergarten through 5th grade to Vacation Bible Summer School. In this wet and wild VBS, kids will learn that when you put your trust in Jesus, you can "make waves" because His Spirit will live inside you. Through fun activities, engaging lessons, and God's Word, this VBS helps Kids understand how they can share God's love with the people around them.
Important Information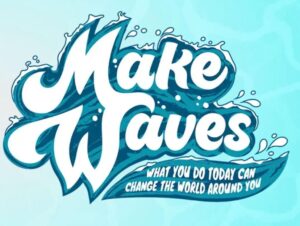 • VBS will be held from Monday, June 20th to Friday, June 24th
• Time: 9am-12:30pm
• Location: At Holy Cross Parish in the Hall
• Registration fee: $ 40 per child (Scholarships will be offered based on a family's need)
• Lunch, snacks, and water will be provided
Registration
Registration will be from May 9th until May 20th, or until spots are all full. Space is limited!
Starting May 8th, VBS registration forms will be available in the Narthex. Please make sure to complete the packet and turn it in along with the $40 registration fee to the Director of Religious Education, Janet Valerio, any day during office hours Monday–Friday from 9-2:30 PM. The packet can be picked up in the office. Please note that we only take Cash/Checks.
Online Registration Packet
Please print and fill out all documents before submitting them to the office.
Volunteers Needed
We are still in need of two adult volunteers.
Youth volunteers are needed for bible storytelling, music, games, food preparation, decorating, crafts, registration, etc. If interested in helping, please contact Janet Valerio.
All volunteers are required to do a background check and the Safe Environment course.